Educational Courses
RUtland Adult Learning & skills service (RALSs)

To view the Course Guide for September to December 2019, please click here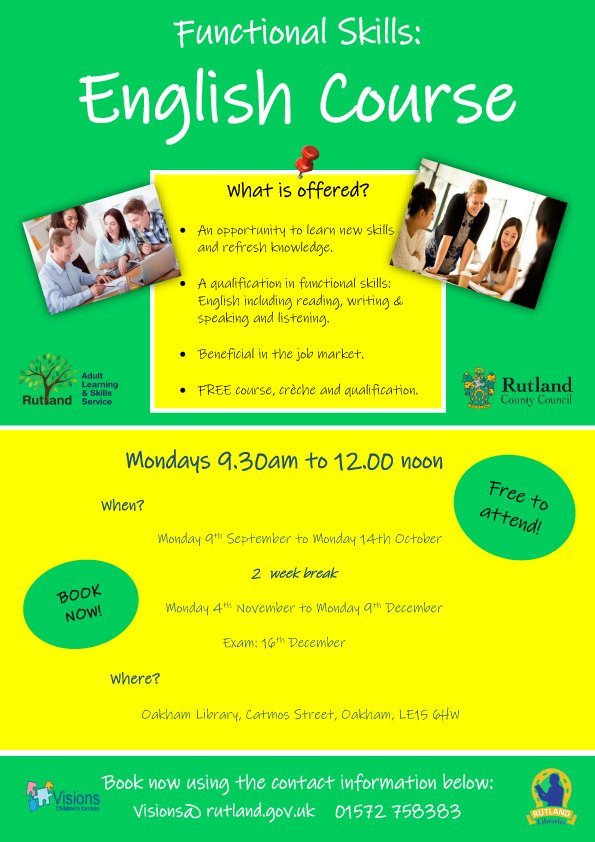 Free English Qualifications
Functional Skills Levels 1 and 2
These courses are open to anyone who has a real interest in furthering their English skills. Classes are available at Visions Children's Centre based in Oakham near the library.
Course duration: 12 weeks plus exam
Date: 9th September and every Monday for 12 weeks (2 week break October half-term)
Exam: 16th December 2019
Time: 9.30 am - 12.00 pm
Cost: FREE to those who meet the criteria below*
Course Location: Visions Children's Centre, Catmose Street, Oakham, LE15 6HW
Exam Location: Rutland Adult Learning Centre, Unit 1a, Oakham Enterprise Park, Ashwell Rd, Oakham, LE15 7TU
You will need to take a skills check prior to coming on the course so we can assess which Level you will be working towards. This will be arranged when you book on the phone.
A creche will be provided if there are enough children to run one.
Contact Visions Children's Centre on 01572 758383 to book your place.
*All courses above are free for anyone who does not have a grade 4 or C or above in GCSE, O level, or CSE grade 1 or A level grade E or above.
To download a Free English Qualifications flyer, please click here