A message to all our Rutland families:
'We are looking forward to seeing you all soon!

Following the current Government Guidance, we are starting to open a numbers of face-to-face groups in Rutland.

In order to keep our families and staff safe, we are not currently able to offer drop-in services and all groups will use a book on system in advance. Groups will have a limit on the number of adults and children over 5 years that can attend. If a session is indoors we will be limited to the number of adults that can be socially distanced in that room. So for example although Government Guidance may say up to 15 adults can meet for indoor play activities we may only be able to safely have 10 in a room we are using.

Due to the Covid19 vaccination effort at the Council building, The Visions Children's Centre is being used to cover essential services for the majority of the week.

The Visions Children's Centre will be available every Thursday from the beginning of May to run small groups for new parents, young parents, Aiming High Sessions and Youth Services. We will also be running Children's Centre face to face groups in different locations around Rutland including Oakham, Uppingham , Greetham and MOD Barracks. You will find further details of these sessions on event posters shared through Facebook and Parent Mail. These will also be available on our website: www.visionsccc.co.uk .

All our groups will adhere to the social distancing guidelines and spaces will be limited. Booking is essential.

Visions Children's Centre will email you close to the start date to confirm if you have a space on the course.

Please contact us on 01572 758383 or email visions@rutland.gov.uk if you would like any further support for you and your family.'
Service update: coronavirus (COVID-19)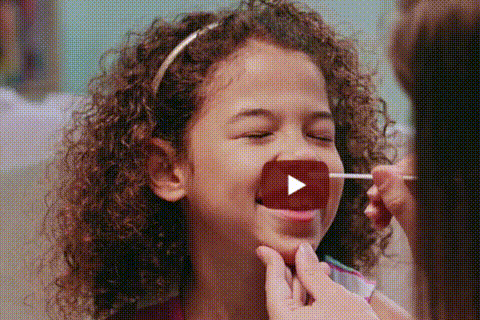 Tap to watch a video on how to test your child for coronavirus at home
Rutland County Council is continuing to follow the latest government advice around coronavirus (COVID-19) and as of close of day Friday 20 March 2020 Visions Children's Centre, including appointments and outreach sessions, closed until further notice.
For more information about COVID-19 please look at the Rutland County Council website www.rutland.gov.uk/coronavirus
We are however taking the sessions online; Music Mavericks sessions will be running online using Zoom every Monday, Wednesday and Friday 11am -11:30am starting Monday 30th March.
Toddle talk will run the new course of sessions every Thursday using Zoom for 6 weeks starting Thursday 23rd of April until Thursday the 28th May. This will be 10:30am – 11:00am and 2:30pm-3:00pm every Thursday.